Inductee: Hall of Fame
Smith, Tracey, Lyon and Brock for Pellegrini's Espresso Bar
66 Bourke Street
Melbourne, VIC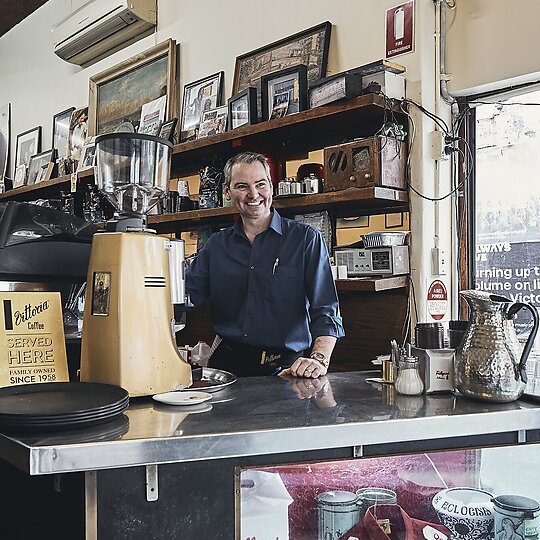 Jury Citation
Where does one begin with Pellegrini's? Too long left out of the Hall of Fame, this little espresso bar is still going strong 68 years after the architect Smith, Tracey, Lyon and Brock first submitted its charming design drawings to Melbourne City Council for approval. Little has changed since 1954. The current proprietor, David Malaspina, is committed to keeping every atom of Pellegrini's just as it is right now – which is to say, just as it has always been. No renewal, modernization or renovation plans in sight; and that is just the way that David, his staff and his adoring patrons like it.
In 1972, the two brothers who gave the venue its distinctive name sold their espresso bar to friends Nino Pangrazio and the much-missed Sisto Malaspina. Sisto was a beloved top-end-of-Bourke-Street fixture, a perennially welcoming presence, until he was cruelly taken from us in the terrible terror event of November 2018. Pellegrini's thrived back in the 1970s, and it is still going strong.
There is a magic in this modest place that is simultaneously difficult, and yet not that difficult, to pin down. Ask David, and he says that it's not that complicated. And that's the point – it's simple. It never changes because it doesn't have to. It isn't fancy – the design is simple – and it's more like a visit to grandma's house than a visit to a downtown restaurant. The food itself is also simple, honest, and cooked in front of diners in the rear dining room, across the scarred timber table – a menu offering as unchanging and seemingly eternal as the place itself. The coffee is, of course, perfectly good. Just as it always is.
David is often asked when Pellegrini's will get a liquor licence. His answer is simple: never. Why? Because it's important that the children keep coming in, and so he is happy to leave well enough alone. Speaking of children, during our visit, David recounted that he had recently entertained the newest member of the fifth generation of diners from one family. They have been coming to the venue since the 1950s. This is not so unusual for Pellegrini's.
Like many of the other venues that have graced the annals of the Hall of Fame, Pellegrini's does something unique beyond its physical fabric. It means something. It certainly means something to David, who is Sisto's son. David grew up in the venue with his sister, creating childhood memories running up and down behind the bar. It means something to the generations of diners who come again and again, because they love what they find there, knowing that it never changes.
Perhaps just as significant is the meaning of this genuinely iconic design artefact to the city and culture of Melbourne, which remains a dynamic urban centre piled up on stolen land, a place that has constantly been in frantic flux since first European settlement. The big money has come and gone many times, washing in and out of the Hoddle Grid with the booms and the busts. And for the last third of the modern city's life, Pellegrini's, with its stripped-back, post-war style and neon signage, has been there to witness it all.
Let's face facts: 2022 is tough times. With existential threats seemingly looming in every quarter around the world, it is good to recognize and acknowledge something we have close to home that we can rely on, that never changes. Long live Pellegrini's Espresso Bar.