Winner: Best Restaurant Design
Hassell for Di Stasio Carlton
244 Faraday Street
Carlton, VIC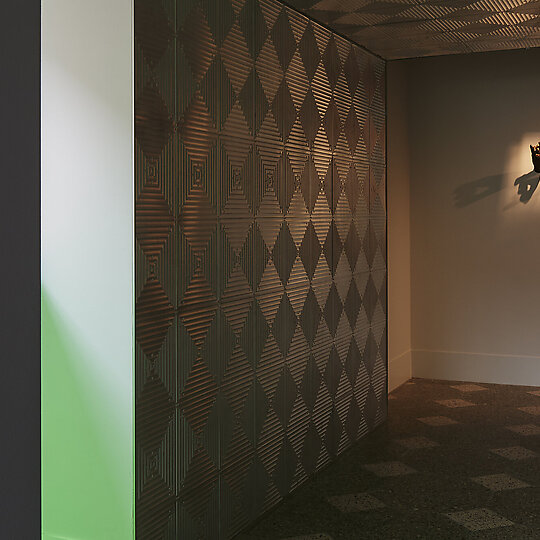 Di Stasio Carlton is the third restaurant for the Di Stasio team. An art filled restaurant, it represents the DNA of Di Stasio but takes it into a very different shell. Customised to create a unique restaurant experience, the restaurant's design was driven by instinct not fashion.
Jury Citation
As Di Stasio's third restaurant outing in Melbourne, Di Stasio Carlton is a combinatory experiment that may never have worked, if not for the astonishing cohesiveness and confidence of the execution. Both simple and truly special materials and elements are used in pared-back ways. Flawlessly combining very old, rather old and brashly new, the venue juxtaposes striking contemporary Australian art with a seventeenth-century Italian fountain, and black volcanic concrete with original terrazzo. The blending of seamless interiors and outdoor spaces takes the visitor on a dynamic journey from arrival to bar to table, where lunch can easily bleed into dinner – la dolce vita. This is simultaneously a place that feels very special for intimate outings, and yet remains a comfortable place to take your children to dinner.
A balancing act between nostalgia for what came before and an embrace of the here and now, this venue is fundamentally of its time and place. One juror described Di Stasio Carlton as "the essence of Melbourne food culture, and the soul of Carlton." This is a worthy accolade.