Winner: Hall of Fame
Lazzarini Pickering for Icebergs
Victoria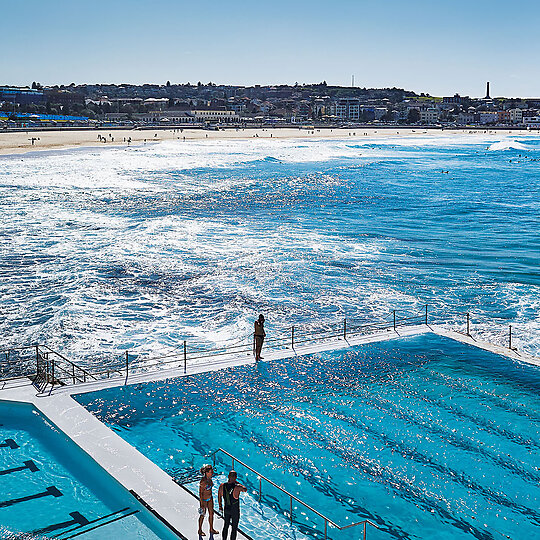 Jury Citation
"I have always described the Icebergs design as my love letter to Sydney," says Carl Pickering, one half of Rome-based practice Lazzarini Pickering. It's also an ode to an extraordinary client – architect relationship. "When I met Carl," remembers Maurizio Terzini, the restauranteur who took a risk on one of the country's most iconic beachside sites, "he didn't ask what I wanted the space to look like. We talked about the menu, about what people would eat there, what they would wear." And thus began a fifteen-year relationship that is still going strong today.
Opened in 2002, Icebergs immediately made a big splash, its rigorous modernism excoriating the flotsam and jetsam typical of much beachside architecture. No palm fronds or thatching, no luffing sail motifs, not a coil of rope in sight. And yet, for all that, to Pickering, "the principal idea was to create a beach house rather than a restaurant." A modern beach house, then – one that creates a sense of place without succumbing to its emplacement. It's no mean feat to orchestrate an environ-ment of elegance and ease opposite the dramatic swell and surf of the Pacific Ocean as it hits Australia's east coast.
Working a palette inspired by the ocean, the dining room bleeds out to meet its environment even as its surroundings pour in. To sit in the dining room of Icebergs is to swim in the ocean below. Or perhaps in the saltwater pool of Bondi Icebergs Club, home of those cold water stalwarts on this site since 1929.
"We tried to be as invisible as possible in the design," says Pickering. While the long, narrow (fifty-five metres by five metres) room was difficult to articulate, transversal "crystallized waves" of opaque glass are used to break up the space, creating a cadence through the rhythm of banquettes. "The beach metaphor," notes Pickering, "is continued in the sand-coloured cement floor. The long black walls prevent reflections in the glass, allowing the view of night-time Bondi to be clearly visible. As in all of our projects, functional necessities inspire a specific formal solution."
"All of our projects" includes Lazzarini Pickering-designed boutiques for fashion house Fendi in London, Paris and Rome, private villas in Positano and Monte Carlo, and award-winning super yachts for European billionaires. "I was always conscious of comments like, 'Woah, this is the guy who designs yachts for Giorgio Armani!'" laughs Terzini, recalling his first meeting with Carl. But their relationship goes beyond surface glamour.
I like to think their rapport has something to do with a shared continental sensibility. Pickering was born in suburban Sydney in 1960, moved to Italy, graduated in architecture from the IUAV University of Venice, and co-founded Lazzarini Pickering with Claudio Lazzarini in Rome in 1982. Terzini was born in suburban Melbourne in 1964 but spent his formative years in Pescara, an Italian port town on the Adriatic Coast. Both men have spent more than half their life flipping between Australian and Italian culture, and it's along that sliding rule of taste, influence, interest and style that they constantly collide and collude.
Three years ago when Terzini decided Icebergs needed a lift and (in response to the liberated liquor laws) greater capacity, he called Pickering back in. They found very little needed to be done. "We updated the fabrics in the bar area with more spacey UV-protective stuff," shrugs Terzini. "Oh, and we redid the rattan chairs for the third time. But this time in acrylic rattan. They're more durable and sun- and saltwater-resistant." The Icebergs chair was designed especially for the space. "We didn't want a restaurant full of chair legs," remembers Pickering, "so we designed the Icebergs chair. A chair that was comfortable for even a five-hour lunch, which often happens there – guests love to just stay around and order another bottle or two of wine. We even made a special wider one for Kerry Packer, who had a generous girth." To point out the obvious – a chair that wears out through bums on seats is the sign of a very successful restaurant indeed.
And a restaurant that can stand the test of time is testimony to an excellent connection between a restaurateur and his architect. Terzini puts it this way: "Carl Pickering could be turning clients away, and yet he treats me very, very well." For Pickering, it's like this: "Maurice Terzini is one of the world's great restaurateurs. We have learnt an enormous amount about hospitality working with Maurice over the years with Icebergs and later Giuseppe, Arnaldo & Sons in Melbourne, Neild Ave in Sydney and now a new restaurant in Bali. Maurice's comprehension of the project and his involvement is total. His attention to detail during design is extraordinary. He walks through the restaurant in his mind thousands of times so as to resolve all the functional issues before construction begins. The design is slowly honed to become a crystal, perfectly resolved formally and functionally."