Winner: Hall of Fame
Six Degrees for Meyers Place
Victoria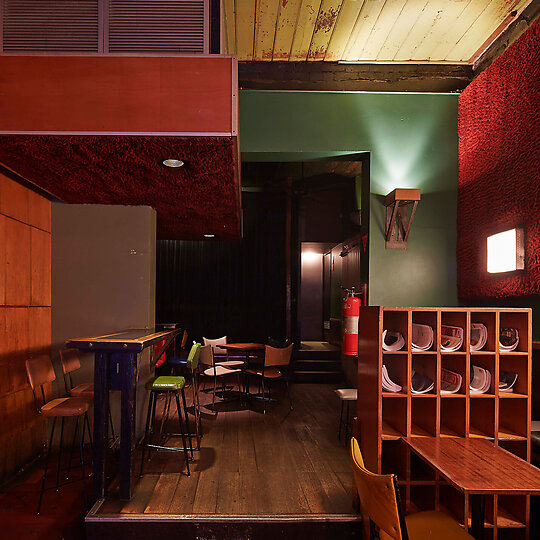 Jury Citation
It doesn't really have a name other than its location and at night, after closing, it's hidden behind an unmarked metal roller shutter, but the bar at 20 Meyers Place stands tall as a design template for Melbourne's – and arguably Australia's – small bar and laneway culture.
The bar opened in 1994, a result of a change in Victoria's licensing laws that allowed bars to sell alcohol without having to also serve food and the desire of a group of fledgling architects to create the kind of place that they wanted to socialize in, but which didn't exist in Melbourne at the time.
The architects, Six Degrees, wanted to test the Asian concept of bars and restaurants that opened directly onto the street. They were also interested in Gomi, the Japanese art movement that recycles "rubbish" as art. The architects' decision to incorporate recycled and scavenged materials and found objects was not just because they were constrained by a tight budget (around $30,000) but also because they wanted to bring to the bar the kind of ready-made character, history and memory that second-hand materials can convey upon a new space.
The architects took out the lease on a former hairdressing salon in an almost-empty laneway off Bourke Street, just around the corner from Parliament House, and renovated much of the site themselves.
The walls were panelled with timber from the stage at the Melbourne Town Hall (traded with the builders who were demolishing it for a slab of beer), parts of the ceiling and walls were covered with shag pile carpet pulled from a house they were renovating, and a complete cool room and beer tap system was salvaged from a closed down pub and reassembled at the site. Tables were made from old Department of Education cupboard doors and train armrests.
This second-hand, pre-aged aesthetic has become one of the tropes of Melbourne's bar scene, copied and riffed on hundreds of times in hundreds of different forms. Interestingly enough, as the still immensely popular Meyers Place bar attests, it's an aesthetic choice that doesn't seem to get old.
But the strength of Meyers Place comes from more than just the clever use of second-hand materials. The dimensions of the concrete bar were taken from the nearby 1950s espresso bar Pellegrini's, a favourite hangout of the architects who, by replicating it in their own bar, added another layer of local history. The bar breaks through the recessed glass wall at the front of Meyers Place, creating an outside drinking area that becomes part the lanescape, just like the bars the architects admired in Asia. In summer, the glazed front wall can fold open entirely while in winter, it shuts down against Melbourne's chill and rain.
Meyers Place has never championed designer drinking or fashionable entertain-ment. Its split-level mix of seating – on stools and chairs, inside and out – and effective use of low lighting and interesting textural details make it the kind of modest place where people want to socialize, not because it's fashionable but because it's comfortable and, even when full, it functions.
It's the kind of bar that all the other bars want to be. Some of them even realize their dream but Meyers Place will always be the source.